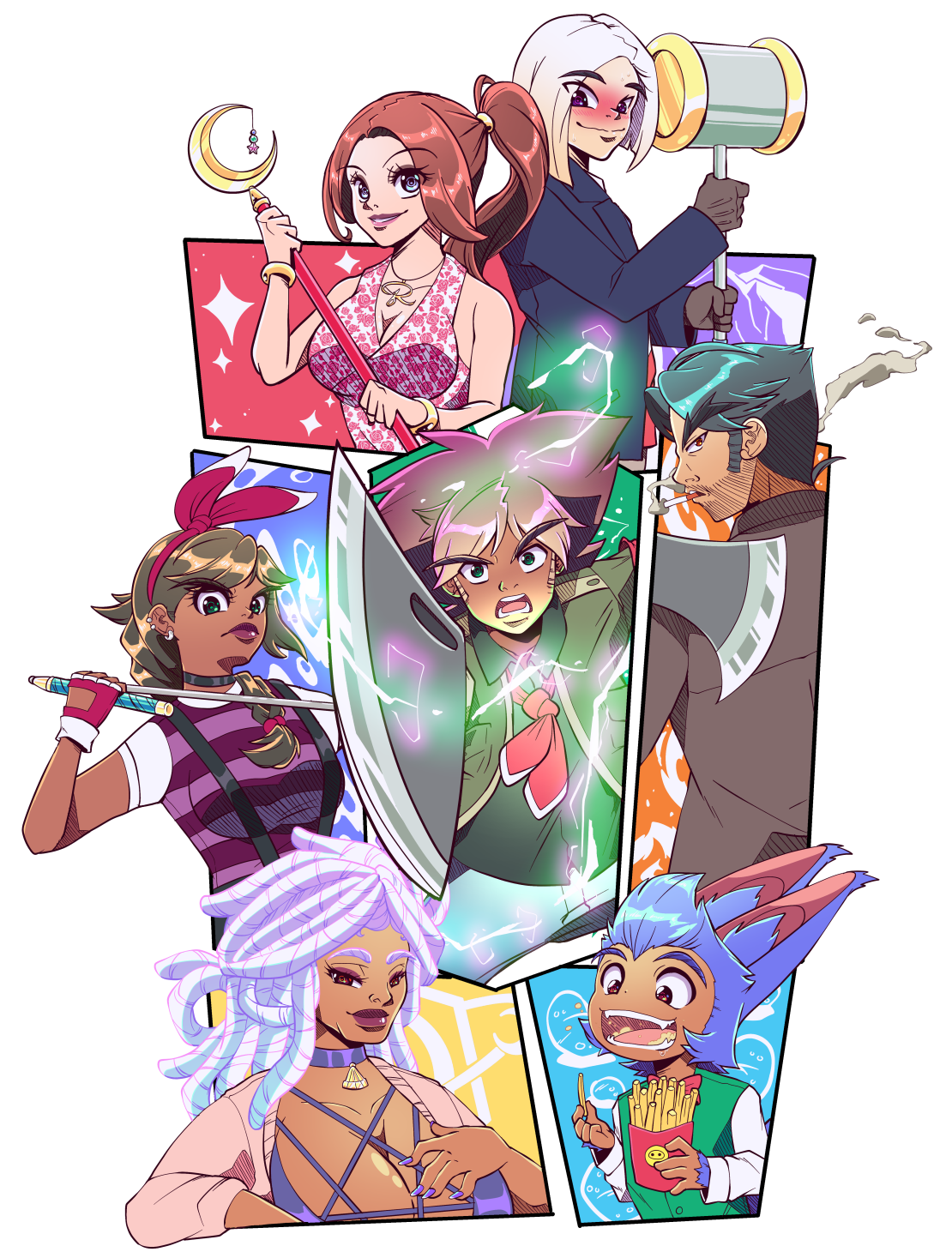 Get ready for an electrifying adventure with Electric Fencer!
Join the magically gifted sibling duo, Elliott and Anastasia "Lee" Alexander, as they embark on a thrilling globe-spanning journey alongside their Uncle Ronan and their loyal friends, Lance and Renée.
But this is no ordinary journey—it's a race against time to rescue their kidnapped brother, Andrew, from the clutches of the sinister Silver Legion. This corrupt military organization has nefarious plans for the entire world, and our heroes won't rest until they put a stop to it.
With the help of the enigmatic Astral Conservatory agents Jiro and Tarragon, our brave adventurers will unlock their hidden magical powers, confront terrifying monsters, and face off against maniacal enemies. Along the way, they will unravel an ancient conspiracy, with secrets that hold the key to saving Andrew and protecting the world from the forces of evil.
Brace yourself for an electrifying adventure with thrilling surprises and exhilarating escapades that await our heroes on their coming-of-age journey in Electric Fencer!
Questions
Q: When does Electric Fencer update?
A: As of this posting, the comic updates Wednesdays at 5:00pm EST/GMT-4 and will do so for the foreseeable future.
Q: When will the comic return from hiatus?
A: We're back, baybee!
Q: Is the comic available on any other platform?
A: As of this posting, Issue 1 and part of Issue 2 are also available on Tapas. We're currently exploring other options for places to upload the comic.
Q: Can I support you? Would it help get the comic out faster?
A: You can support Electric Fencer by Buying Us a Coffee. Note that this is entirely optional and your support or lack thereof will not determine whether or not the series gets produced. This is just a happy little way for you to tell us you like what we're doing and that you'd like to throw us some coins. Whether financially, by spreading the word, or checking the comic every week, we're grateful that you call this little corner of the internet home 💖
Q: What about merch?
A: You can find merch over on our RedBubble. If you buy the merch, please feel free to send us a photo at electricfencerteam@gmail.com and we'll feature it on the site.
Q: What about ads?
A: We're currently using ComicAd to advertise on the site and hopefully generate some traffic exchanges, but I have a hardline stance against Google AdSense or any other similar ad revenue service on this site. I personally feel that ads regularly cheapen my experience on the internet, whether it's an unskippable 60-second ad on Twitch, YouTube's new (as of this posting) feature that demands that you turn off Adblock, or the 72 layers of absolute fucking nonsense that pop up whenever I'm trying to read blog sites. Never you worry, as long I'm in charge, Electric Fencer will not be subject to this. I don't know how ComicAd plays with ad blockers, but as long as it doesn't demand that you turn it off to access the Electric Fencer, I'll leave the ad spaces intact and won't hassle the audience beyond that.
Q: Can you come to my local convention?
A: Hell yeah! Shoot us an email at electricfencerteam@gmail.com or have the showrunners for the con you're interested in do so and we can get a conversation started. The team is currently looking at artist alleys at conventions in 2024.
Q: Are there hard copies of each issue available?
A: I'm working with the team to determine an appropriate price point for the books to have them sold through our printer for those who'd like to have it in their hands. There are plans to work have Issue 2 printed by our next convention appearance, and if you've seen us at cons and bought our copies of Electric Fencer Shorts!, those will be professionally printed in the future as well.
Q: What else are you working on?
A: Issue 4 of Electric Fencer is currently in the works, as is the writing for Issue 5 and a general outline overview of the remainder of the series. Given the number of story beats we'd like to tackle, the list of issues we'd like to cover is increasing. There are also plans for spin-off stories that serve as B-sides to the main plot, as well as a handful of sequels, though whether or not we get to see those depends on how things shake out. I'm also planning a project for NaNoWriMo this year (as of November 2023) for a light novel set in the distant past of the universe of Electric Fencer.
Q: Are you taking commissions? 👀
A: It depends on the size of the project. Just shoot me an email at electricfencerteam@gmail.com or on social media if you can find me, and we'll talk numbers. Due to recent experiences, I am currently not looking to draw other writers' comics, children's books, or other large scale art projects. If I should find myself on the market for such jobs, I will reach out to any interested parties.
⚡🤺